Shaftless Solar Skylight Systems - illume by Kimberley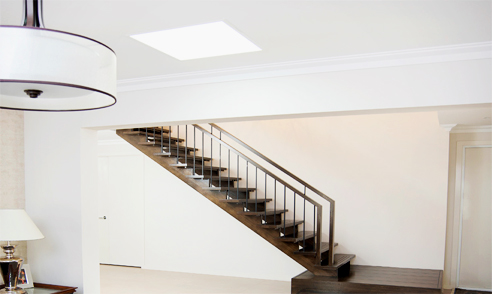 When the two owners of a building and interior design business went in search of ambient lighting solutions for the dark recesses of their own new home, they discovered a unique product called illume Shaftless™ Solar Skylight System that perfectly suited their needs.
Wendy and Michael Vella decided to build a new two-storey dwelling for themselves and their three boys in the north-western Melbourne suburb of Essendon. On the ground floor, shafted skylights were out of the question but what they discovered was a range of products that could deliver the same variant light effect of a skylight to brighten some of the dark interior spaces.
Built by Australian hardware solutions business, Kimberley, illume is the world's first 'smart skylight' that operates and installs without the need of a light shaft, flexible tube or a large roof cavity. Using an illume skylight panel that is connected to an external solar panel, illume is designed to convert the suns energy to light and auto-adjust brightness levels to match external conditions.