Natural Stone Pietra Tile Collection from DecoR Stone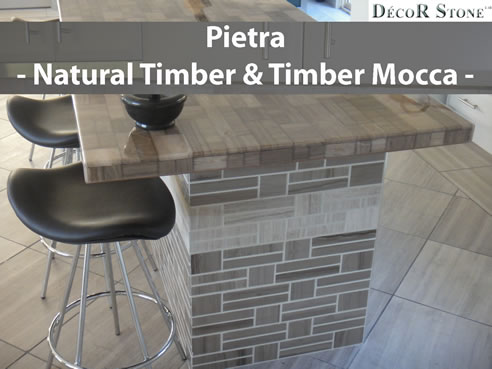 Pietra adds a touch of class
The new designer Pietra wall tiles are made using natural stones such as marble, quartz and travertine and are available in 8 different colours at Décor Stone. The applications of Pietra are almost endless - any interior room or exterior living space can benefit from the installation of Pietra tiles.
Geoff Iles (Managing Director) of Décor recently incorporated different tones of Pietra into his newly finished house, from the kitchen to the bathroom.
Pietra makes an excellent and alternative material for kitchen bench tops and when coated in a layer of resin the results look amazing. The combination of the naturally varied Pietra tiles with the resin produces a three dimensional quality of the bench. A Pietra tile splash back is the best way to harmonize and add a flow-through effect throughout the kitchen. Pietra can also be incorporated into bathrooms to add a designer quality to the room and break up the monotonous whites.
How easy is it to add a touch of class?
Watch our 'How To' videos on http://www.youtube.com/decorstoneau