Alucobond Architectural & Halifax Vogel Group at Visual Impact Sydney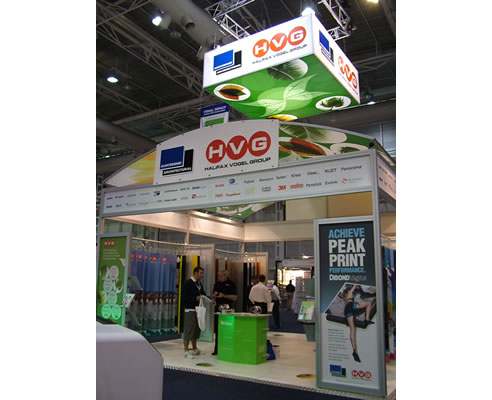 Halifax Vogel Group at Visual Impact Sydney
Alucobond Architectural and Halifax Vogel Group (HVG) Graphics Division exhibited together at the recent Visual Impact show held in Sydney.
Visual Impact provided the opportunity to launch new products such as Re-board - a highly-durable engineered flute cardboard from the Graphics Division and the new Dibond colour finishes from Alucobond Architectural; Anthracite Mirror, Gold Mirror, an all-new lighter shade of Copper Butlerfinish and the realistic Wedge, Maple, Walnut and Rosewood finishes of Dibond Décor.
The Halifax Vogel Group stand which was constructed from Octanorm components also featured other products such as Panorama backlit on the rigged "cube" and logo panels, Dibond Digtal for the Logo panels, Dilite for the front and rear graphic panels, Forex Print for the front and rear company logo panels and the ceiling was made using Bermuda and Economesh.
Octanorm Australia had its own stand alongside HVG and Alucobond Architectural - which showcased its comprehensive range of exhibition, retail and display systems.
The stand featured the popular Vario d400 pop-up system, a compact modular alternative to the standard pop up stand featuring anodised aluminium end caps to allow for accessories such as literature and product shelves, display screens and bag holders.
The show was a great success attracting many industry professionals to the stand who expressed interest in what the Halifax Vogel Group, Alucobond Architectural and Octanorm have to offer.