Borefield Transfer Pipeline from Vinidex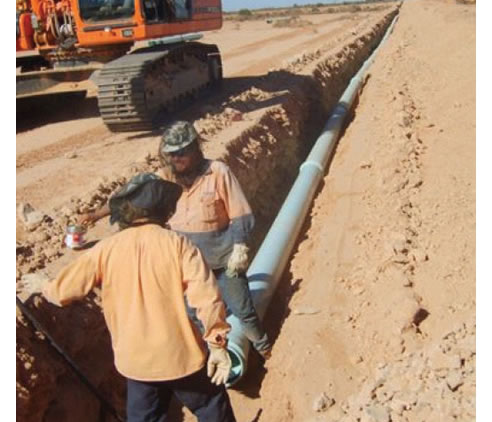 Borefield Transfer Pipeline
Oz Minerals Prominent Hill,
South Australia
In late 2007 Vinidex was awarded the opportunity to providepipeline materials for the PROMINENT HILL Borefield TransferPipeline. The pipeline is an essential piece of infrastructurethat provides water for many communities from processingthe raw materials, to potable consumption via on site reverseosmosis plant. Initially specified in PE, detailed cost benefitanalysis revealed Supermain® PVC-O to be a more viablematerial option. Supermain® PVC-O pipes were seen to bringconsiderable advantages including operational and installation.This was an unprecedented project in Australia asPVC-O had not been used for a mining application of thisnature. This project is likely to set a precedent for the future asmining companies nation wide seek to maintain the efficiencyof water supply to their operations using the very best materialsavailable.
Vinidex successfully supplied over 90 kilometres ofSupermain® PVC-O pipe and fittings ranging in size fromPN16 DN150 to PN16 DN300. In a demonstration of theflexibility of Vinidex's manufacturing capability, the pipes weremanufactured at state of the art facilities in Brisbane andSydney. Furthermore, the project requirements were met wellwithin the six months timetable required. Vinidex Supermain®PVC-O pipe is manufactured in accordance with AS4441"Oriented PVC pipes for pressure applications" under thestrictest quality control guidelines. Vinidex Supermain®PVC-O represents the pinnacle of PVC pipeline material technologybringing significant performance and operatingbenefits. This is especially critical in severe operating environmentssuch as that encountered at Prominent Hill SouthAustralia.
Operational performance advantages include:
Exceptional resistance to fatigue and cyclic loading
Superior hydraulic performance and reduced pumping cost
100 year service life
Reduced OHS risk through light weight
Environmental Benefits include:
Low environmental impact through the efficient use ofmaterials
Reduces pumping energy requirements
Commercial benefits include:
Rapid and cost effective installation
Long service life with low maintenance requirement
Reduced pumping cost and energy savings
BJ JARRADS PTY LTD
Ian King
Project Manager
The project from the start present challenges to our constructionteam. Such issues where firstly the remoteness of theproject 110klms south east of Coober Pedy, the project wasapprox 75klms from the Base Village which present deliveryproblems because of temporary access tracks constructed.
The Vinidex despatch team in South Australia organised thetransport and delivered all loads as per our agreed deliveryprogram. At times it did rain in the desert but the trucks inmost cases were able to track on through.
The ease of laying the PVC-O in the harsh conditions was anextreme advantage.
At times we were able to lay up to 1800 metres in a full shift.We worked two crews on laying, one during the day and anight time crew.
Backfilling for the trenches was generated by our VermeerRock saws that produced a suitable material for bedding andhaunching.
PVC-O is a tough pipe and will be tested in the harsh conditionsof the South Australian desert and we have no doubtthat this pipe was the correct decision for this project.