Automatic Retractable Hose Reels from Maze Distribution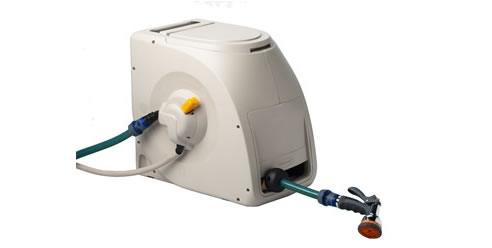 MOTOReels
The ultimate in automatic hose reels the MOTOReel uses the water pressure in the tap to rewind any hose with great strength and steady pace. This simple design uses the force of the water to power the reel. You simply connect the reel to the tap like any other hose or reel and when you're ready to rewind you pull the lever.
MOTOReel 45 + 18m x 18mm
The MOTOReel 45 provides the benefit of a large capacity reel in a sleek strong case. Includes a strong 18mm hose as well as fittings and a nozzle.
Features
Includes 18m of 18mm hose
Hose sorting device on reel
Can rewind hose containing joiners
Automatically rewinds at the push of a lever
Rewinds at a safe and constant speed
No metal parts to rust or lose tension
Comes with a 2 year warranty
Specifications
Weight: 10kg
Maze Part Number: MR-S45-1818
Bunnings Part Number:
Dimensions of reel: 35cm x 50cm x 45cm

Spec-Net Terms of Use | Stats | Home
Available at