Spill Control Mats from The General Mat Company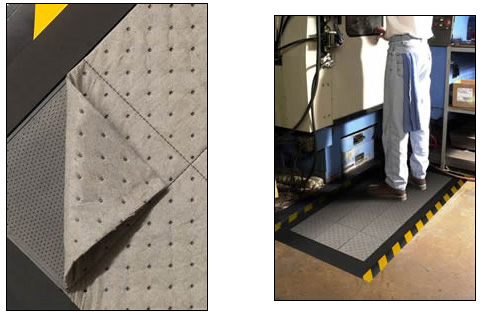 Features and Benefits
Outstanding Anti–fatigue benefit available in a 15mm thickness.
Cleated recessed tray holds the absorbent pad inside for maximum protection against spillage' slip/fall' minimising contamination around work areas.
100% Nitrile rubber top surface is grease proof and earth friendly using 20% recycled Nitrile rubber.
At last' a truly comfortable anti–fatigue floor mat that may be used in conjunction with an absorbent pad. This very functional anti–fatigue mat is also the first available with yellow caution striped borders for added workplace safety!
Mat Specifications
Uses: Wherever oil absorbent pads are used.
Compounds: 100% Nitrile Rubber top surface
Thickness: 15mm
Warranty: 1 year conditional
Colour: Black with Yellow Safety Border
For 25% off and a free catalogue please fill in the form below!