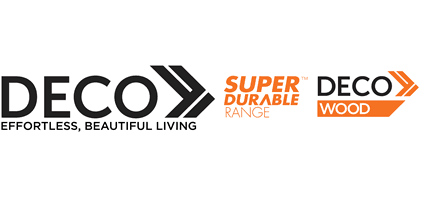 Company Profile
DECO specialises in a range of quality aluminium building systems and durable decorative finishes for effortless, beautiful living.

As the manufacturer of leading timber-look finish DecoWood, we can help you transform your building projects. DecoWood combines the natural beauty of timber with the strength and durability of aluminium, and never needs sanding, painting or staining.

With 150 woodgrain finishes, DecoWood can be used in many indoor and outdoor applications as an ideal alternative to timber, including coastal regions and bushfire prone areas. Use DecoWood for your windows, doors, privacy screens, shutters, louvres, fences, gates, decking and more!

Discover our full range of Deco products at deco.net.au

DecoDeck - the unique aluminium decking system approved for BAL40 & FZ areas.

DecoClad – a 100% aluminium, non-combustible cladding system.

DecoSlat – the perfect timber-look system for fencing, screening or gate system.

DecoBatten – easy-to-install, light-weight battens featuring the look of timber.

DecoSign - Powder coated aluminium flat sheet featuring any custom design!

DecoSplash – A one of a kind aluminium splashback system offering complete creative freedom in any kitchen, bathroom, laundry or wet room area.

Deco
02 9603 1888
67-77, Airds Road, Minto, NSW, 2566
* If you would like to update the text on your profile page, please contact Spec-Net.