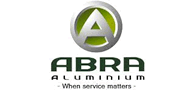 Company Profile
ABRA Aluminium is constantly exploring new, innovative design and developing specific aluminium product systems. ABRA Aluminium has revolutionised many extruded aluminium product lines, making them user friendly and cost effective in materials and in the manufacturing process. Our philosophy is simple: if it needs improvement we will improve it. Look at our success in improving existing products and developing new systems such as security doors, industrial safety access, fencing, wardrobes, privacy screens etc. Looking to the future, we see a line-up of new, innovative products and ideas in various stages of development. Abra Aluminium has developed such a strong international network that we can now supply Australia's total aluminium extruded product requirements. The fact that Abra Aluminium is not restricted to one source allows us to choose the manufacturing facility that best suits each customer's needs. The combined production capabilities of our supply base is 8 times the total production of all the Australian producers put together. ABRA has a national service, delivering to all points of the compass within Australia, including not only capital cities but also remote locations.
Abra Metals
03 9308 5499
118-120 Freight Drive, Somerton, Vic, 3062
* If you would like to update the text on your profile page, please contact Spec-Net.