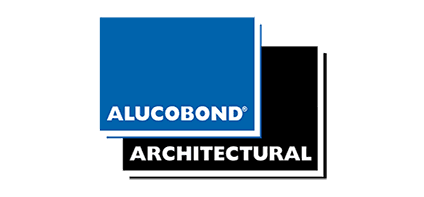 Company Profile
Alucobond Architectural distributes a range of quality facade products throughout Australia.

Alucobond Architectural's extensive product range includes ALUCOBOND®, DIBOND® and ALUCORE® aluminium composite materials manufactured by long-term partner, 3A Composites.

Alucobond Architectural aims to support architects and designers' aspirations from initial concept to project completion.

ALUCOBOND®, DIBOND® and ALUCORE®, offer architects and designers unlimited opportunities for creative, innovative and individual design.

The products can easily be fabricated and fitted on site. The wide range of interior and exterior applications are matched only by the product's versatility.

The key benefits of these products include;
• High formability and stability
• Diversity of brilliant colours and finishes
• Local stock and technical support
• Internationally proven and recognised fire performance
• Excellent weather resistance
• Individual design and easy processing
• Lightweight and large panel sizes

The innovative concepts of ALUCOBOND®, DIBOND® and of the honeycomb composite panel ALUCORE® have proved themselves through many years of experience, innovative developments and first-class service.

First produced in 1969, ALUCOBOND® is the original aluminium composite material and continues to be the most popular in the world today.

The worldwide success of ALUCOBOND® speaks for itself. Never compromise when it comes to quality and experience.
Alucobond Architectural
03 9394 3130
25 West Park Drive, Derrimut, VIC, 3030
* If you would like to update the text on your profile page, please contact Spec-Net.