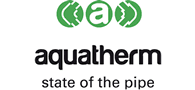 Company Profile
Aquatherm is a world-wide producer of Polypropylene (PP-R) pipe systems for the potable water and heating sector.
Aquatherm was founded in 1973 in Germany as a company for the development, production and installation of warm water floor heating systems. Then, Aquatherm was one of the first three suppliers of floor heating systems on the European market.

In 1980 Aquatherm developed the fusiotherm® polypropylene (PP-R) pipe system for potable water and heating installations. Trade innovations were the basis for a constant growth. Today, Aquatherm has subsidiaries in Attendorn and Radeberg (Germany), USA, Canada, Italy and UK and more than 78 marketing partners around the world.

Aquatherm is the largest selling PP-R pressure pipe system in the world market.

Yearly well over 38,000 km of pipe (Ø16-Ø630mm) and over 40 million fittings are produced, stored and dispatched all over the world.

Our product range has expanded beyond water services into mechanical and civil services, such as compressed air, recycled, large bore HVAC systems (up to 630mm) and sprinkler pipe systems. Special grid systems for comfort heating and cooling have now been introduced in residential and commercial constructions sectors.

All Innovation, Engineering and Production remains in Germany.
Aquatherm Australia Pty Ltd
02 9774 1172
Unit 6, 16 Mavis St, Revesby, NSW, 2212
* If you would like to update the text on your profile page, please contact Spec-Net.