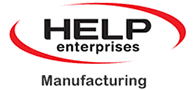 Company Profile
Help Manufacturing is a commercial division of Help Enterprises and has been producing a high quality range of aluminium and metal fabricated products since 1972.

Our architectural product range consists of MailSafe Mailboxes, GarageSafe Storage Solutions, Help Safe Bin Enclosures, and Help Safe Fencing and Screening, as well as a range of hardware products including brackets, post supports and star picket drivers. We also have the facilities to customise metal fabrication to your specifications.

Our range of MailSafe Mailboxes consists of fully extruded aluminium mailboxes in various shapes and sizes tailored to your needs. After decades of experience, we are now one of the largest and most professional and Quality Assured mailbox manufacturers in Australia. Our manufacturing business now includes stainless steel, mild steel and aluminium fabrication . We also can provide powder coated finishes to enhance the look and durability of our products.

Help Manufacturing
07 3868 1765
520 Curtin Ave East, Eagle Farm, QLD, 4009
* If you would like to update the text on your profile page, please contact Spec-Net.