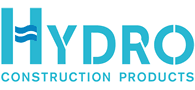 Company Profile
Hydro Construction Products was formed in 2003. Former shareholder Ian Turner acquired the business in its entirety in 2013 and is now managing director of the rebranded entity Hydro Construction Products overseeing offices and warehouses in Melbourne and Brisbane with key staff and a network of distributers across Australia and New Zealand.

With the support of our distributers, our loyal customer base and a team of dedicated professionals who are simply passionate about what they do, Hydro has grown to become Australia and New Zealand's pre-eminent supplier of water management solutions for any application. Our successful business model in water management has recently seen us expand our business into the concrete cutting sector capitalising on our in-house expertise.

Key to Hydro's success in the water management sector has been our long standing relationship with MEA, one of the world's leading manufacturers and suppliers of modular linear drainage systems. This successful partnership with MEA began in 2003 and we're extremely proud to remain MEA's long term exclusive supplier throughout Australia and New Zealand.
Hydro Construction Products
03 9368 6888
07 3393 9990
43 Agosta Drive Laverton VIC 3026
4/35 Canberra Street, Hemmant, QLD, 4174
* If you would like to update the text on your profile page, please contact Spec-Net.