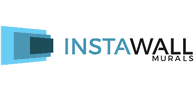 Company Profile
Wall paper is so yesterday. Wet and messy to put up, and hard work to strip off.

Thankfully, Instawall is not a wallpaper. In fact, it is not even paper.

Instead, our richly coloured wall art is printed on a high tech material created specifically for indoor and outdoor commercial signage.

This backing even breathes to help keep the wall beneath free of damp and mildew and it is non-toxic, safe and biodegradable If you think our printing surface is pretty advanced, wait until you hear about our peel and stick self-adhesive backing.

It not only peels and sticks, it also unpeels and unsticks on demand. So it's super easy to remove unwanted air bubbles or re-align the edges while you're putting your mural up.

After holding your Instawall mural firmly in place for years, it will strip off just as easily – it never gets hard or brittle.
In fact, you could easily move it to another wall or another room. Or, if you carefully save the non-stick backing sheets, you can reverse install it and take your mural to a new address.

Instawall Murals
1800 001 060
15 Mason St, Parramatta, NSW, 2150
* If you would like to update the text on your profile page, please contact Spec-Net.