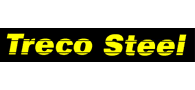 Company Profile
Treco Steel is the original lintel specialist. Treco Steel has the largest range of lintels on the east coast of Australia including:

Above and Beyond Concept's Pro-Series galvanised ribbed lintels, shelf angles and T sections,
Galintel's range of MultiRib T Bars, Traditional T Bars, Rendabar, Cavi-T-Bar and J-Bar
Ultrafloor's concrete lintels
Galvanised arch bars – angles and flats

Above and Beyond Concept's Pro-Series lintels, shelf angles and T sections are manufactured to comply with both the Building and Masonry Codes of Australia.

Treco Steel is an official distributor of the DuPont Building Envelope System's products such as Tyvek HomeWrap, FlexWrap, Flashing Tape and Contractor's Tape.

Treco Steel supplies a range of galvanised steel products such as RHS drain, retaining wall "H" (UC) and end (channel) sections, structural steel columns, bollards and DuraGal hollow sections for fencing.

Treco Steel supplies merchant and structural steel sections such as angles, flat bars, hollow sections, Universal Beams (UB's), Parallel Flange Channels (PFC's), Universal Columns (UC's) and Rolled Steel Joists (RSJ's). Treco Steel can organise cutting, drilling, priming and galvanising of merchant and structural sections. However, Treco Steel does not carry out any welding.

Please note, however, that the staff at Treco Steel are not professional engineers. We do not specify lintels or structural steel sections to be used in any situation. Beware of steel suppliers who specify sections without the appropriate professional qualifications and indemnity insurance.


Treco Steel
02 9632 6666
53 Railway St, Yennora, NSW, 2161
* If you would like to update the text on your profile page, please contact Spec-Net.