Outdoor Clothesline Vs Undercover Clotheslines from Versaline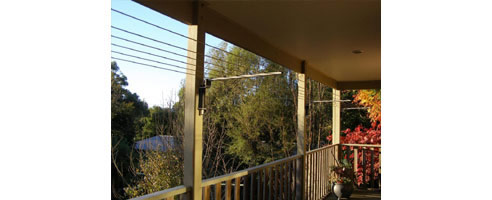 When it comes to drying laundry out in the open, Versaline questions whether it is overrated.
Why go to all the trouble and stress worrying about the weather or other elements, when you can do the same job within the confines of the home?
Alison from Victoria writes, "At last a clothesline that suits a high-set, wrap-around verandah. One that I can remove to restore my view and that frees me from keeping a nervous eye on the clouds."
Julie, also from Victoria, adds, "We are really impressed with the Versaline Broadline, and love its versatility. We remove the lines (so easy!) when not in use and that means our views from the verandah are uninterrupted. We don't have to carry washing baskets up and down stairs, as we would with a rotary hoist in the yard. And by having a number of lines on different sides of the house, we are able to take advantage of the direction of the weather. We have found the Versaline really does live up to its name. A fantastic product - highly recommended!!!!"
Just think of all the disadvantages of an outdoor clothesline, and things that could go wrong during the period when the washing is hang out on the line unattended:
> The unpredictability of weather conditions
> The risk of bird and bat droppings landing on your washing
> The washing is more exposed to dust and pollution
> More open to theft of valuable items on line
> Sun damage by fading and baking the clothing, especially in warmer climate areas
> Evening dew can occur early in winter times, especially in cooler climate areas
> Injuries caused from trekking to the clothesline with a washing basket full of wet washing
> The inconvenience in having to rush home to take the washing off the line at the slightest hint of rain