Swimming Pool Surfacing with Beadcrete by Designer Concrete Coatings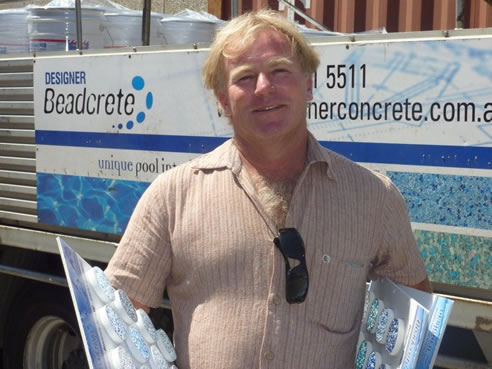 Designerite Pty Ltd News
Along with our 'pre bagged' patented pool interior blend Designer Beadcrete now also offer glass spheres for bulk purchase in a range of popular colours, as well as, cement, Sky-Pebble and bundy sand for a variety of on-site pool interior mix design installations.
Pool builders and applicators can now save money by purchasing directly from the manufacturer/ distributor at any of Designer Concrete Coatings' Designerite branches situated at Thornleigh, Padstow, Ingleburn, Kirrawee and West Burleigh Qld.
Designerite would also like to welcome David Turner to their team. Dave has been in the pool building industry for 30 years and is a 2nd generation pool builder himself. Dave is an expert in pool materials and application and is looking forward to working with the Designerite team as their National Sales person.
For further information please call Designerite on 02 9829 3311 or visit the website www.designerconcrete.com.au