Pre-Insulated Pipe Systems from Aquatherm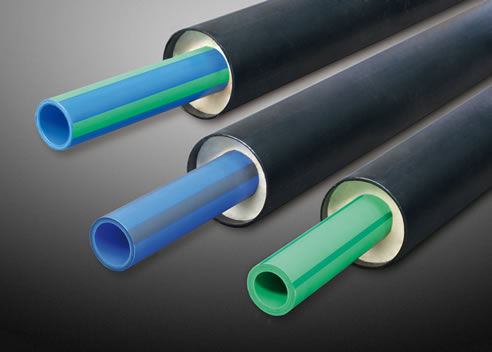 Aquatherm PP-R Ti Pre-Insulated pipe systems for district heating
Aquatherm is the world largest producer of PP-R (Polypropylene) pipe systems for the potable water and heating sector. Aquatherm was founded in 1973 in Germany as a company for the development, production and installation of warm water floor heating systems. Aquatherm is represented in 78 countries and produces approx. 150km of pipe and 240.000 fittings per day.
The German made Aquatherm Ti pre-insulated PP-R pipe system has been developed especially for underground district heating or cooling and for the transport of hot potable water covering long distances underground.
To achieve the necessary insulating characteristics for this type of application, Aquatherm offers the factory-made pre-insulated ISO pipe system with different medium pipes.
All medium pipes (Ø32 up to Ø315) are PP-R fibre composite pipes.
The Aquatherm ISO pipe systems are insulated with PUR rigid foam and coated with a casing pipe made of PEHD.
By using the Aquatherm ISO pipe system it will make your life easy. The Aquatherm PP-R material is maintenance free and has longevity.
All Innovation, Engineering and Production remains in Germany. Aquatherm is proud of the fact that all of its products are "Made in Germany".