Schindler Lifts Awarded Elevator World Project of the Year for VCCC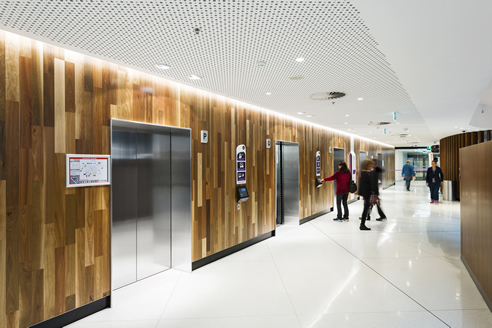 Schindler Lifts Australia Awarded 2017 Elevator World Project of the Year for Victoria Comprehensive Cancer Centre project
Elevator World Inc, has recognised Schindler Lifts Australia for its work on the Victorian Comprehensive Cancer Centre (VCCC) project as the world's premier elevator installation at the publication's 2017 industry awards.
The VCCC is a purpose-built centre-of-excellence for cancer research, treatment, education and care located in Melbourne's prestigious Parkville Biomedical Precinct. It was designed to deliver maximum functional area with a blend of clinical, administrative and research facilities.
"The VCCC is a great example of where we have been able to incorporate the best of our innovations to provide a unique solution for the customer", Schindler Australia Managing Director, Rob Seakins said. "PORT Technology coupled with our S7000 & S5500 products has created a unique user experience in a hospital type environment. The cooperation between Schindler and Plenary Health, the team tasked with delivering this facility, was critical to delivering on the VCCC vision. We are very proud to have been selected for the installation of this project and continue our association through our service and maintenance team," Mr Seakins added.