Halton Kitchen Hoods by Stoddart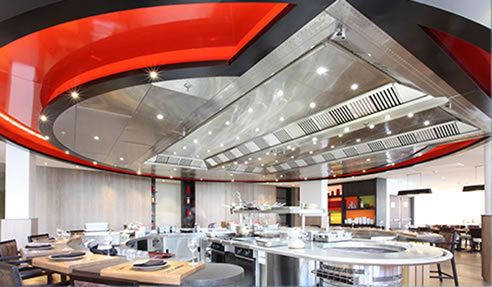 Kitchen exhaust and kitchen ventilation significantly affect professional kitchens in terms of productivity, comfort, and contaminant removal. In order for a kitchen to be classified as a high-performance kitchen, it must possess a harmonious combination of these four cornerstones: safety, energy efficiency, indoor environment, and air purification.
Stoddart is a licensed manufacturer of Halton, the optimum solution for various kitchen ventilation requirements. While Stoddart is the leader in manufacturing metalwork for the architecture industry and food service, Halton stands as the leader in its own category: commercial kitchen exhausts and commercial kitchen ventilation systems. Halton ensures unique advantages from using their products and claims that there are no other commercial kitchen hoods and exhaust methods can offer the same benefits.
Halton Kitchen Hoods in Action
Experts in the industry believe in the power of Halton Kitchen Hoods. Here's a list of establishments with premium kitchen installations done by Stoddart:
1. Darling Harbour (New South Wales) - The task of eliminating cooking odours and smoke as well as avoiding them to linger in the surrounding environment of Darling Harbour was handed to Stoddart. As a popular international hotel in Sydney, the designers of the new main floor wanted a functional statement piece to be installed in two new open kitchen restaurants. The product of choice for this installation is the Halton Ventilated Ceiling solution. This product is designed to be installed over cooking equipment like induction cooking plates and char grills. The kitchen's low ceiling was not a problem because of the compactness of the Halton design.