MakMax Australia sponsors the Australian Institute of Architects Bar at Form & Function 2010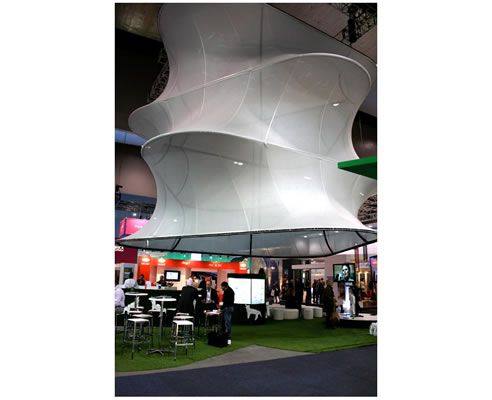 For the second year running MakMax Australia is the sponsor of the Australian Institute of Architects Bar at Form and Function. MakMax is Australia's largest tensile membrane specialist design, manufacture and installation company.
In the 9 months since Form and Function 2009, MakMax has been busy completing Nelson Mandela Bay Stadium for the 2010 FIFA World Cup, Jawaharlal Nehru Stadium for the 2010 Commonwealth Games as well as completing tensile fabric icons for MTV Australia. Rounding out the year MakMax received multiple awards for excellence in manufacture and design from industry groups including IFAI, LSAA, and ACASPA.
Renown for creating fabric structures that are cutting edge, MakMax as part of the International Taiyo group has been responsible for many of Australia's (and the worlds) most recognized structures. Longitude 131 luxury tents, Adelaide Oval Grandstand, The Gabba Stadium, O2 Arena (formally Millennium Dome) and more recently Mumbai Airport, Nelson Mandela Bay Stadium and Jawaharlal Nehru Stadium for the 2010 Delhi Commonwealth Games are all included on MakMax's impressive reference list. Additionally, MakMax is the only tensile membrane company investing in research and development to create both innovative and sustainable fabrics.
MakMax is tensile membrane technology. The Australian Institute of Architects Bar is anticipated as being an example of the future of textile architecture. For further information on MakMax Australia, The Australian Institute of Architects Bar and Form and Function visit www.makmax.com.au and www.formandfunctionexpo.com.au.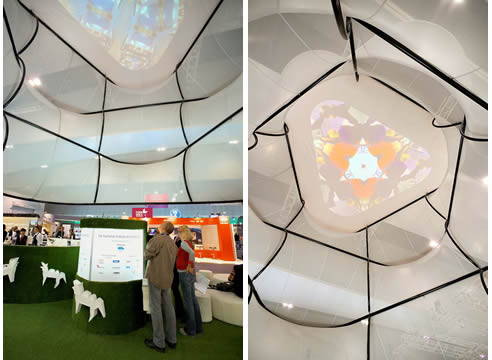 Company Overview
MakMax Australia custom-designs and constructs structures, from small sized projects to major developments such as sporting complexes, cultural projects and transportation venues. MakMax Australia offers a large range of tensile membranes including PTFE, PVC and ETFE. These long-lasting membranes and high-quality fittings are uncompromising in style and aesthetics, and are the result of leadership in design and engineering. MakMax's qualified engineers work closely with clients to develop concepts and deliver design solutions with maximum impact, functionality, durability and value engineering. MakMax's designs are fresh and current, working seamlessly with architectural trends. The company's advanced technology enables its architects to develop three-dimensional images to provide clients with early, accurate design drafts. Following design, MakMax project manages the process of fabrication and construction, using quality-assured best practices to ensure complete peace of mind.
Products and services

MakMax's award-winning Architectural Membrane - custom-designed structures for medium to large projects such as resorts, hotels, sporting complexes, stadia, and cultural projects.
MakMax Textile Facades and Interiors - used to enhance and refresh building interiors and exteriors.
MakMax Architectural Carparks - custom-designed tensile structures that suit any commercial carpark.
MakMax Architectural Umbrellas - often found outside cafes and in resorts and hotels. These high quality, fully-engineered architectural umbrellas and modular systems offer protection in the harshest conditions.
Project experience
Nelson Mandela Bay Stadium, Soccer World Cup 2010
New Delhi Stadium, Commonwealth Games 2010
Jawaharlal Nehru Stadium
Melbourne Swimming and Aquatic Centre, Melbourne Commonwealth Games 2006
Longitude 131 luxury tents
Fox Studios, Sydney
Amenities Building, Sydney Olympic Park 2000
Adelaide Oval Grandstand, South Australia Cricket Association (SACA)
Wedding Halls of Abu Dhabi
Split Airport, Croatia
Saida Stadium, Lebanon
Movie World, Gold Coast
Brisbane Tennis Centre
Sahara Star Hotel, Mumbai Airport
Hyderabad International Airport
Mumbai Domestic Airport Terminal T1B City Centre
Symbiosis Institute, Pune
Kmall, Ahmedabad
Kirloskar Brothers, Pune