Climatherm PP-R OT Pipe Systems from Aquatherm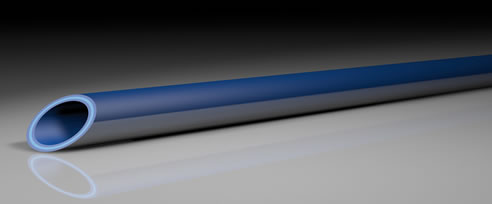 Climatherm PP-R Faser Oxygen Tight
Climatherm PP-R Faser composite pipe OT SDR7.4 / 11
Material: fusiolen PP-R C
Pipe series: Art.-no. 2170708 - 2170712 = SDR7.4, Art.-No. 2170114 - 2170138 = SDR11
Form supplied: 4 m straight lengths (20 - 125mm), 5.8 m straight lengths (160 - 250mm)
Color: blue
Specific feature: Oxygen Tight (OT) by diffusion barrier acc. to DIN 4726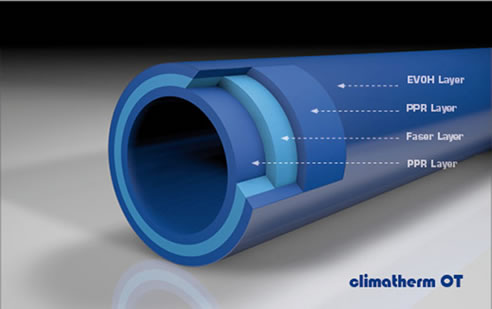 Fields of application:
For chilled / hot water and heating systems. Temperature range -20C - +90C.
For temperature / pressure ratio please refer to the table of permissible working pressures.
The advantages of the NEW Climatherm Faser composite pipe OT:
Oxygen Tight by diffusion barrier acc. to DIN 4726
Absolutely corrosion resistant
less pipe friction
high stability
high heat-stability
high environmental compatibility
high impact rate
resistant against chemicals
heat- and sound insulating characteristics
very good welding properties
considerably thinner insulation
Easy and quick installation technology
Climatherm PP-R Faser OT pipes and fittings are joined together by socket fusion (20 - 125 mm) and butt welding (160 - 250 mm).
The Climatherm PP-R Faser OT pipes have to be peeled with peeling tools before processing.
Weld in saddle Technique: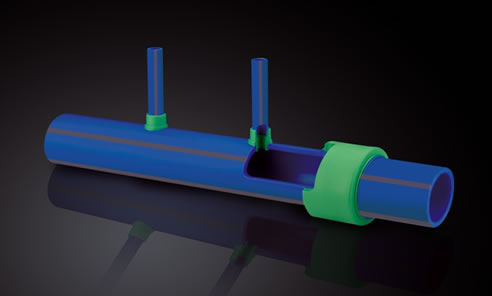 Prior to welding the weld in saddles into the climatherm PP-R faser OT pipes, the Oxygen Tight barrier layer has to be removed by using special Saddle Peeling Tools.