Airepure - Purafil removes odours at St. Joseph's hospital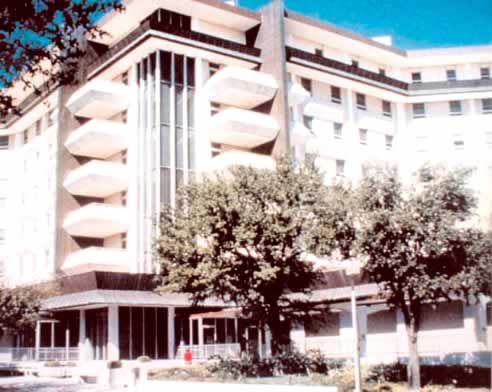 The Problem
Healthcare facility managers receiving complaints about odors may attempt to improve indoor air quality (IAQ) by bringing in fresh air from the outside. While this method can be effective in some commercial facilities, outside air is the primary source of odors in healthcare environments. Outside sources of odors, including incinerators, loading docks, ambulances and waste disposal units, are usually located at the rear of the building, within feet of primary HVAC air intakes.
St. Joseph's Hospital, an 883-bed primary care facility in Tampa, Florida, offers all the services of a major medical facility. Aware of the problems associated with indoor air pollution, St. Joseph's took preventive action and contacted Purafil's local representative. Without the proper filtration system, a build-up of odorous emissions could contaminate the hospital's twelve surgical suites.
Purafil Provides the Solution
The facility engineer at St. Joseph's Hospital concluded that Purafil's gas-phase air filtration system, combined with the hospital's new particulate filtration system, was the best solution available for removing pollutants.
Gas-phase air filtration is a unique technology based on the use of dry chemical pellets, or "media." Purafil's CP Blend media is a 50/50 volume blend of activated carbon (Purakol media) and potassium permanganate-impregnated alumina (Purafil media). Because Purakol and Purafil media are effective at removing different gaseous contaminants, both are needed for complete gas removal. Purakol media, for example, has a high removal capacity for hydrocarbons, but will desorb gases of lower molecular weight. A 50% blend of Purafil is needed to neutralize lower-molecular-weight gases, such as aldehydes and oxides of sulfur.
Purafil Front Access Systems were installed inside each of the hospital's twelve air handling units. The systems, which filter odors from outside intake air, contain disposable modules and Purafil's CP Blend media.
Purafil's Front Access System is a non-powered unit composed of individual metal frames.
The frames can be stacked horizontally or vertically allowing for flexibility in terms of size and media bed depth. Inside the metal frames are sliding tracks for Purafil's Disposable Modules. The modules are prefilled at Purafil's factory with CP Blend Media and are easy to install and replace. With no separate handling of the media (i.e. emptying and refilling modules with new media), maintenance time is significantly reduced.
Value-Added Service
A Media Life Analysis is a complimentary Purafil service. Regular sampling of the media is necessary in order to prevent gas breakthrough or unnecessary media replacement costs. Purafil's local representative takes regular media samples from sealed ports on select modules and sends the samples to Purafil's laboratory at company headquarters. A certificate of analysis states the media's projected service life.
As a result of the installation, St. Joseph's Hospital has received no further odor complaints from patients or staff. Purafil's local representative and Purafil have been providing St. Joseph's Hospital with clean air solutions for more than seven years.