Large circular decorative wall panels by 3D Wall Panels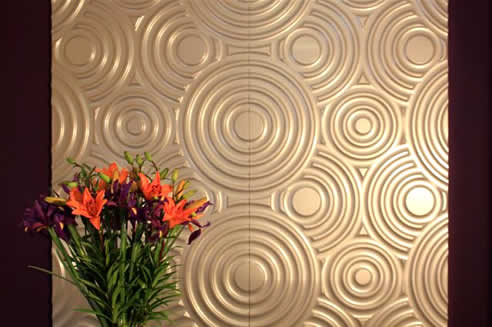 3D Wall Panels™ are an exciting new product that promises to transform ordinary walls into spectacular and dramatic spaces. Whether you are an architect, interior designer, builder or home decorator, you can use our textured wall panels to create a totally unique type of wall decor. Imagine a stunning three dimensional feature wall as the focal point of any area which needs to make a dramatic impact. Or a warm and intimate atmosphere with a subtle design. Landscape architects can utilise the panels to build functional and striking backdrops for gardens and water features.
Each wall panel is machined to create a beautiful, sculpted surface that can be finished in a variety of styles. Our range of wall panelling is varied, but if you have your own ideas, we can custom make a wall panel to your design. Our aim is to keep our range fresh and original so we are constantly developing new designs.