Alucobond Architectural freestanding exhibition stands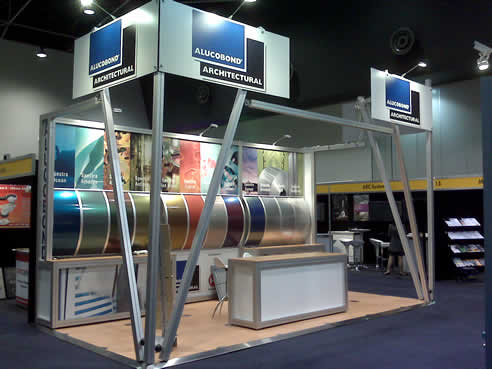 Alucobond Architectural has had three consecutive wins for "Best Freestanding Stand" in the month of October. Exhibition stands at the recent Infrastructure Australia exhibition at the Adelaide Showgrounds, DesignBuild Perth held at the Perth Exhibition Centre and last but not least, at the Visual Impact exhibition held at the Sydney Exhibition Centre were each awarded the Best Freestanding stand.
All stands were built using the Octanorm® system provided by sister company Octanorm Australia. In Adelaide and Perth, the stands featured the Alucobond® Spectra colour range (pictured). The Alucobond® Spectra range change colour as different wavelengths of light are reflected back, depending upon the viewing angle. Eye-catching colours available in the Alucobond Spectra colours line include; Ocean, Amazon, Autumn, Antique, Red Brass, Cupral, Sakura, Jewel and Sunset.