Ceiling Tiles Sydney from Screenwood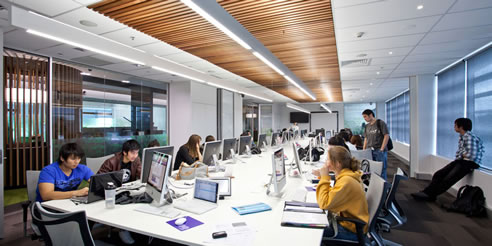 Our Ceiling Tiles here at Screenwood offer another dimension to any interior space by combining the use of natural timbers in a modular system. The modular design allows for easy lay-in installation and ongoing maintenance access.
Our unique ceiling tiles are designed and engineered for use within a standard 24mm two-way ceiling grid system. The modular tile feature allows for efficiency of installation and ease of ongoing maintenance.
When installed, Screenwood Ceiling Tiles disguise the ceiling grid giving the appearance of a continuous linear ceiling system.
Screenwood Ceiling Tiles come in standard sizes to fit 1200mm x 600mm grid openings. Custom sized tiles are used where the perimeter does not allow for full tiles.
Screenwood's PEFC certified status offers assurances about sustainability in the entire value chain from the forest to the finished product.
It complements other elements of Screenwood's philosophy and symbolizes the company's forward-looking engagement with timber from sustainable sources.