Data Centre Airflow Control Options from Tate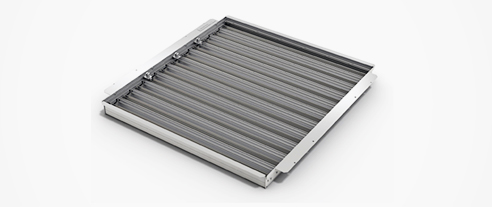 Tate Airflow Controls for Data Centre Raised Access Floor Systems
Delivering the right amount of airflow to the right place is a key component of an energy efficient data centre. Tate had developed a wide range of automatic and manual dampers which adjust cooling to match variable heat loads. All of our dampers significantly reduce bypass air and improves PUE. Tate Airflow Controls can be used in both retrofit and new build applications.
There are 5 individual Airflow control options:
SmartAire® MZ
Automatically balances data centre airflow
SmartAire® MZ automatic variable-air-volume damper offers the most granular airflow control available in the data centre. The unit adjusts cooling independently to 4 separate zones to allow for variable loads and partially deployed areas within a rack. The damper automatically opens and closes to adjust the amount of airflow and ensure the proper inlet temperature is maintained. During equipment changes the unit automatically rebalances the airflow in the facility without manual control adjustments.
A SmartAire MZ Basic option is also available. The SmartAire MZ Basic is a manual variable-air-volume damper with a single temperature probe and rack-mounted LED temperature status indicator.