Guardian Building Products' architectural columns and accessories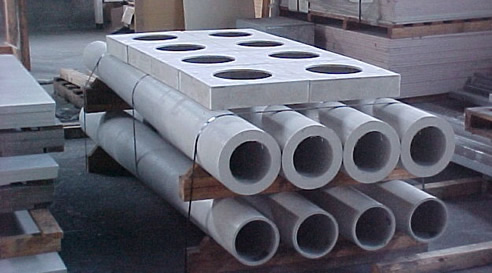 FRC Architectural columns previously manufactured under the James Hardie banner, remain available following the acquisition by the new manufacturer, and are produced from cellulose fibre, Portland cement and sand. They are resistant to permanent damage from water, will not rot, warp or burn and are unaffected by termites.
Artista Columns are a machined smooth cylinder available in a range of diameters and in standard lengths of 2.75 and 4.M. Column diameters include 195mm, 250mm, 345mm and 425mm.
The Tapered column is also available in two diameters at the base being 250mm and 315mm and in standard length of 2.75m.
The "Tapered" column is one of history's most recognisable column shapes and a modern design tool. Available only in 2.75M lengths, the taper starts 900mm up from its base to enable docking to a desired length whilst retaining the ability to fit standard capital accessories to both ends.
Guardian's workshop facilities provide fabrication abilities to dock a column to a desired length, split a column down its entire length in two halves or whatever proportions are required. Columns can be grooved either around their diameter or longitudinally as desired in whatever bandwidths suit your design.
Column Accessories
In addition to the Artista column fixing bracket, Guardian can supply a variety of column Capitals to compliment the installation. The available range of Capitals include the Twin Base, Quad base, Pencil Round, Bell, Cove, and the Ornate. Columns may be joined with the use of a Flush Jointing sleeve or a Rebated Base Capital.
Columns can be factory split by length to allow retro fitting and surrounding existing load bearing posts on site and joined utilising suitable epoxy adhesives.
Should round columns form part of your design, Guardian is well placed to supply your needs as full columns or fabricated to best meet your projects requirements.