Car Hoists from Southwell Lifts Hoists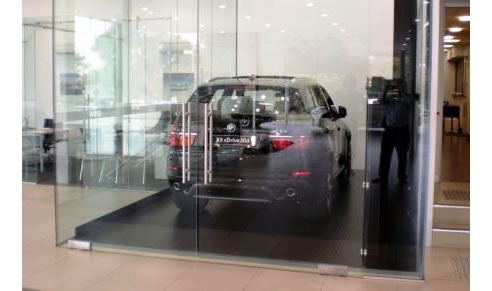 Superior Car Hoists - lifting Car Hoist standards
Southwell Lifts Hoists offer a wide range of car hoists and lifts to meet the growing demand in Australasia.
Where space is at a premium, installing a car hoist makes economic sense. Car Lifts provide a solution where the site is too small for conventional car parks or where a cumbersome concrete car ramp is unrealistic.
Pictured here at Adelaide BMW is a recently installed Southwell non ride-on car hoist which is installed inside a beautifully finished glass enclosure. The impressive enclosure brings an appealing aesthetic style to this remarkable car dealership showroom, showing car movements from level to level.
An Australian manufacturer for over 65 years, Southwell Lifts Hoists provides industry experience and has a range of Australian Standard Compliant Car Hoists for the astute buyer looking for superior and reliable Car Hoists and Lifts.
Contact us today by email or phone 1800 244 787 and talk to one of our friendly staff.