Dancing on the ceiling with 3D Wall Panels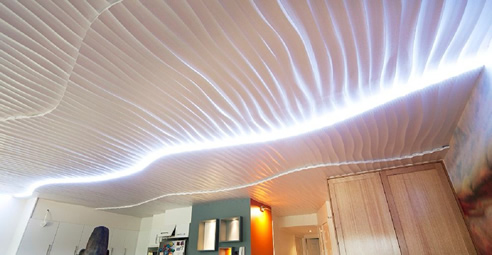 3D WALL PANEL DESIGN: 'Dunes' design
LOCATION: Private residence, Brisbane riverside
INTERIOR DESIGN: Tracey McLeod of Showhomes
INSTALLATION: Builder Graydon Foxover
LIGHTING: Showtech

In an Australian design first, 3D wall panels line the ceiling of this Brisbane riverside retreat in three dramatic tiers, totally transforming it. Showsell, a Gold Coast Interior design and decorating team chose the Dunes design to clad the ceiling in a unique and showstopping way, turning this apartment from drab to fabulous. Builder Graydon Foxover worked in association with Showtech Australia and Osprey Electrical who installed the LED lights to make the design 'dance' across the ceiling. The finishing touch was applied with Dulux Design Pearl Gardenia Frost to further enhance the effect.


3D Wall Panels can be ordered raw or finished in vinyl or 2 pac polyurethane paint. Proudly Australian made and delivered anywhere within Australia, they are available with a short lead time. Need a quote for 3D Wall Panels™? For an instant online quote visit www.3dwallpanels.com.au or phone (02) 9725 4222 or email sales@3dwallpanels.com.au.