Mobile Trackless Barrier from The Australian Trellis Door Company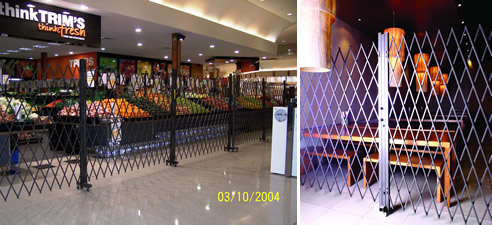 The Australian Trellis Door Company's (ATDC) Mobile Trackless Barrier Proves to be a Winner.

Designed by engineers to meet a growing market need, the Australian Trellis Door Company's (ATDC) Mobile Trackless Barrier is a versatile, and completely collapsible trackless barrier door system. The barriers have multiple applications including access control, securing factory loading docks when the loading dock shutter is open, securing kiosks in shopping centres, securing malls and food-courts, and walkways, and operates on a series of steel trolleys and rubber castors, making it great for use for the erection of temporary enclosures. The system can span an unlimited width at any angle, even in a curved format, and can be wheeled away when not in use and stored out of sight, for added convenience, making it a popular product for shopping centres, with users including Westfield, AMP, Lend Lease, Stocklands, Centro, Colonial Mutual, and Mirvac. The Trackless Barrier Doors also works well to offer access control surrounding dangerous machinery and equipment under maintenance, securing public access areas in buildings like railway stations, airports and bus terminals. Commenting on the ATDC Trackless Barrier System, Dan Boyle, the Operations Manager at Centro Galleria in Perth said, "The system has proven to be a very effective deterrent as well as maintaining the ambience of the centre. We are happy with our purchase." Another regular user of the product, Mr Chris Warner, Security Manager at Millennium High Tech Group, has successfully used the Trackless Barrier Doors at the Macarthur Square Shopping Centre in NSW. He said of the system, "We have used upwards of 20 barricades in the centre around escalators, stairs and other high traffic areas to reduce theft and to allow or restrict access in certain areas. "We find the systems to be very user friendly in terms of their ease of use and flexibility. We have relocated existing barriers to different areas very easily, and with minimum fuss. ATDC has also come out to help with the installation and modification other doors that we have in the centre, thereby saving us both time and money. I would definitely recommend the product and company to others," added Chris. Tony Trim, Managing Director of Trim Fresh, a retail fruit and vegetable outlet located in many shopping centres in NSW, also speaks highly of the Trackless Barrier System from ATDC which is used in all their stores. Tony commented on his experiences with the product and said, "I use the Trackless Barrier Door system in all my stores, as I find it perfect to protect my retail outlets without being obtrusive or expensive, and I get great customer service from ATDC. "The doors allow customers to see my products even if my shops are closed, and the doors fold away so neatly when the stores are open that you don't even notice them. Furthermore they are cost effective, are of great quality and work well to reduce theft," he added. For ultimate ease of movement, ATDC supplies a special trolley allowing the customer to load several barriers at once in order to deploy the systems more efficiently. The systems are secured at each end using a slam-lock facility, which locks the barrier to a side fixing point. If no side fixing point exists then one can use one of ATDC'S removable lockable posts to lock the systems on to. The barriers are fabricated from steel, are precision engineered and have a professional powder-coated high gloss finish for durability and to stand the test of time. In response to demands from ATDC customers to provide a temporary lock up solution, the mobile security barrier can now be rented out for a term as short as one week or for as long as is required. ATDC offers a set up service and also to take down and remove the barrier at the end of the lease period. The rental option is particularly useful for temporary security requirements such as event staging, OH+S work site applications, casual tenancies in shopping malls and pop up retail stores. The ATDC is an Australian, family owned business led by brothers Jonathan and Richard Kaplan, which has been operating since 1985. It currently supplies Australasia's most diverse range of precision engineered expanding trellis security doors in steel and aluminium, which are suitable for securing most residential, commercial and industrial applications, and has remained the market leader in this field.


The Australian Trellis Door Co Pty Ltd Profile
1300 838 259
A6/366 Edgar St, Condell Park, NSW, 2200