Water Soluble Urinal Blocks from Bio Natural Solutions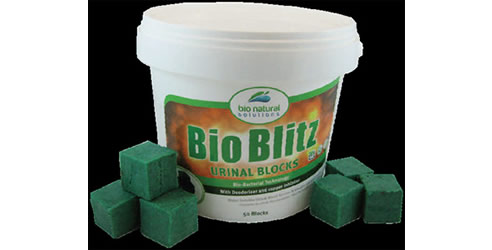 The Bio Blitz Urinal Blocks are water soluble blocks used to disinfect and deodorise men's urinals. These urinal blocks are made with natural and 'friendly' bacteria cultures that digest uric salt, scale and sludge.

The Bio Blitz blocks contain natural citric fragrance that deodorise the urinal and comes with copper inhibitor to help coat and maintain the brass plumbing usually installed in many older buildings. Unlike traditional blocks, Bio Blitz breaks down urine and related waste products down to water and basic minerals. Directions for use: Place a block per wall urinal or every 50cm in trough urinals.


Bio Natural Solutions Pty Ltd Profile
1300 730 551
03 9338 6722
15/49-55 Garden Drive, Tullamarine, VIC, 3043
Shop Bio Natural Solutions Pty Ltd