Braille Products and Services Sydney from Hillmont Braille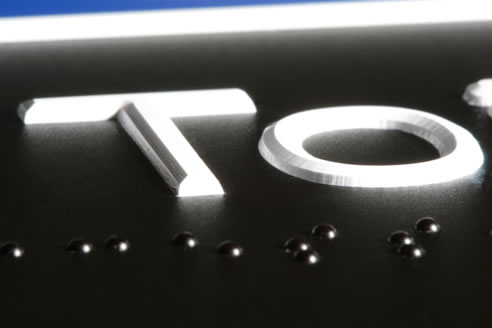 Hillmont Braille and tactile signage is made in accordance with the requirements of specification D3.6 of the Building Code of Australia and Australian Standard AS1428.1.
Standard range
Our standard range of stock items includes some of the more common signs i.e. Male, Female, Accessible etc and is available in High Impact UV stable acrylic in 190mm and 150mm sizes. Standard colours are white on black and white on blue (accessible).
Customs signs to specifications
Much as we have a huge range of standard off-the-shelf signs we pride ourselves on the quality and scope of our custom signs. The most common alternate colour is black on silver however we can manufacture your custom sign to your specifications regardless of colour, size, materials or shape. We will even advise you whether your sign is compliant. Common alternative materials include aluminium, stainless steel and brass (*Internet Source).
Other key features;
100% Australian made
Full product warranty
UV stable
Stain, scratch and vandal resistant
Available in acrylic, anodised aluminum and stainless steel
Hillmont Braille Signs is one of the most successful and innovative manufacturers of Braille in Australia and has been manufacturing and supplying Braille/tactile and general signage solutions for over 15 years from our Northwest Sydney location (now based at Castle Hill).
High profile projects include the award-winning wayfinding system at the University of Sydney, many of the facilities for the Sydney 2000 Olympics as well as the Epping to Chatswood railway and Braille signs inside the new Oscar railway carriages.
You are most welcome to visit our Castle Hill showroom and factory, email us or phone to discuss your needs.
Samples can be provided as well as fast turnaround services for toilet signs http://www.spec-net.com.au/press/0813/hil_070813.htm Hillmont Braille Signs.
For more information visit http://www.hillmontbraillesigns.com.au/