Linear Timber Interior Panels from Screenwood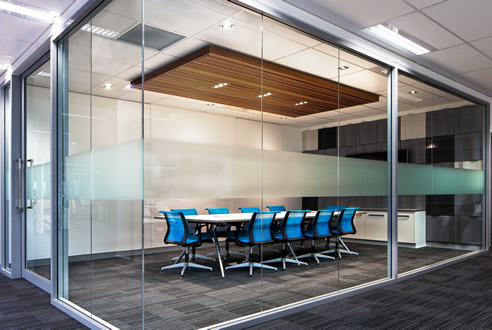 DHL Matraville - Specifier: Hughes Bruce Australia
Hughes Bruce Australia recently specified an assortment of Screenwood linear timber panels for various spaces at their project for DHL offices in Matraville. Spaces were defined in meeting rooms with ceiling panels manufactured with certified Western Red Cedar. Equipped with acoustically rated SC15 acoustic textile, the Screenwood ceilings provide echo reduction which allow meeting participants to communicate comfortably.
A wide standard range of timbers and profiles are available, but Screenwood can also accommodate many custom alternatives. A solid white paint finish on Hoop Pine was used on ceilings and walls in the staff breakout area and hot desk spaces to complement their bright and cheerful minimalist colour scheme.
Screenwood modules are delivered to site prefinished and assembled; ready for quick installation by any qualified builder. There is no front fixing of blades done on site and they are cut to specified lengths during manufacture to ensure a simple and expedient install.
Screenwood is ideal for new or existing fitouts; available in tile format to easily update a standard two-way ceiling grid or in panel form for all other applications.