Linear Radiator Residential Project from Hunt Heating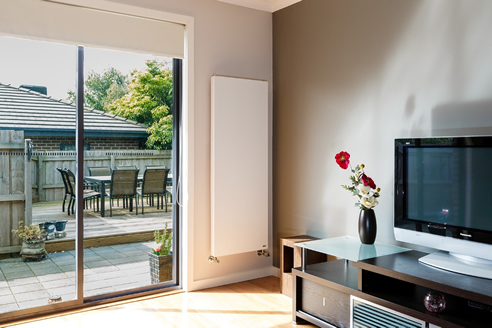 CHELTENHAM RENOVATION
The brief was to install radiators that complimented the home owner's simplistic decor and styling for their new build whilst ensuring the system would heat the home efficiently and economically and in-line with their budget.
The local accredited installer recommended a combination of Delonghi linear radiators in living areas, Delonghi steel panel radiators in bedrooms and chrome Delonghi towel rails in the bathroom and en-suite. Giacomini thermostatic valves were installed throughout.
An Immergas HE 30+ combination boiler provided the heat source for the hydronic system and provided all domestic hot water meaning only one gas connection was required to the plant area. The whole heating system was connected using pre-insulated Wavin multilayer composite pipe and smartfix fittings.
Comprehensive time and temperature control was accounted for using the Immergas Car V2 room thermostat installed in the main living area.
Programming your heating around your lifestyle and cleverly setting temperature levels in individual rooms will reduce carbon dioxide emissions and lowers heating bills. Hunt's range of Immergas boilers carry a 2 year parts and labour warranty and DeLonghi Radiator panels a 25 year warranty.