Stone Cleaning & Maintenance Products - Geal from RMS Marble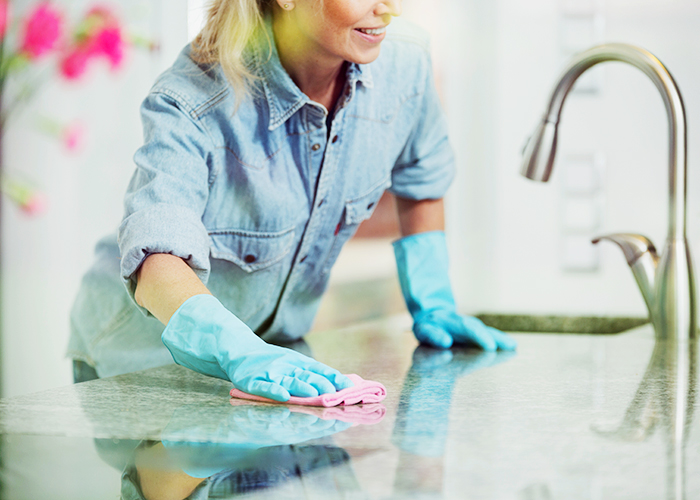 Geal Sealers and Cleaners
Here at RMS Marble, we believe that regular stone cleaning and maintenance is just as important as installation. We believe in only using the very best quality, which is why we carry the Italian brand, Geal. All of the products we carry are RMS at green and forward thinking, and Geal's beliefs are aligned with ours. These materials perform exceptionally, yet have minimal impact on the people or the environment.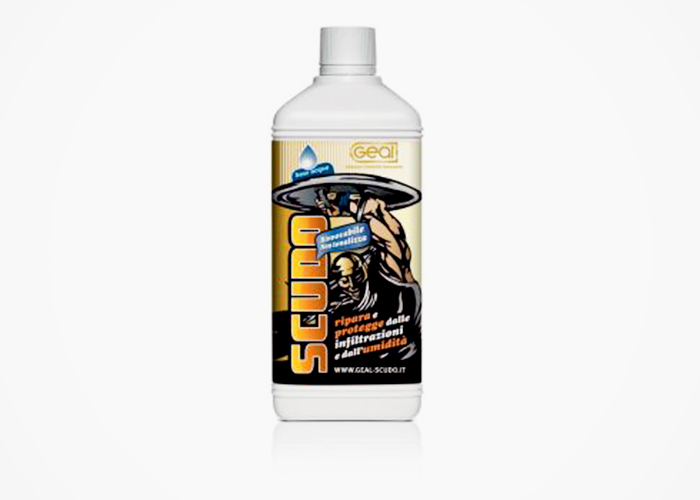 Scudo - Anti-Seepage & Anti-Damp Protection (Water Base)
Anti-damp, anti-seepage protection for floors and covering made with any kind of material.
Stops penetration of water though the joints and superficial cracks up to 0.5-1mm width; creates a long lasting waterproof barrier, resistant to weathering.
Avoids formation of mildew and decay of visible parts, such as plaster and wallpaints of balconies, banisters and walls. Can be applied also on wet surfaces: provides with waterproofing after drying.
Easy to apply.
Avoids absorption of organic dirt (smog, oil, mould, etc.) making their removal easier.
Renewable and reversible, does not create superficial films, does not leave sticky residues, does not yellow, does not alter the look nor original breathing.
How to use: Ready to use. Apply pure on clean and dry surface (even uniformly wet), with a paintbrush, roller, spreader in proportion of absorption, especially in joints and cracks. Do not apply when temperature is below 5°C or over 35°C, or when rain is expected during the following 4-8 hours. Can be re-applied as periodic maintenance or when new cracks appear.
Why choose Scudo:
Protects walls, plasters and all visible surfaces.
Stops seepage and damp.
Does not alter the look and does not film.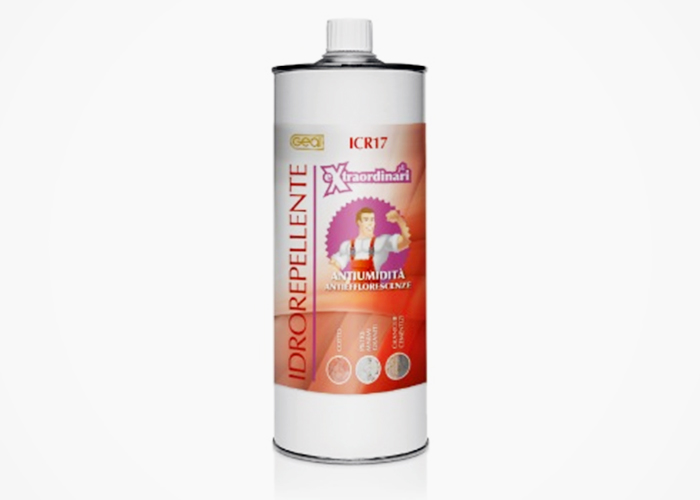 ICR17 - Mixture of Siloxanic Oligomers with a Low Molecular Weight in Organic Solvent, Deep Penetration Power and Fast Condensation
Stops rising damp into floors and walls.
Reduces seepage and protects underlaying structures even decayed by cracks.
Suitable for the pre-treatment of floor tiles before grouting to avoid staining and perimetral damp.
Does not yellow, does not change the look and the original breathing.
How to use: Ready to use. Apply pure on dry surfaces with a paintbrush or liquid spreader. After 10 minutes approx. remove possible excess. Do not apply on very hot or very cold surfaces (above 40°C or below 5°C) or outodoor when rain is expected. For the best protection repeat application after 4 hours at least with two coats or more coats "wet on wet." Always execute a preliminary test. Use on dry surfaces only, both indoor and outdoor, made of cotto and terracotta tiles, clinker, all kinds of stone and marble, all concrete aggregates (terrazzo, pavement, plaster, etc).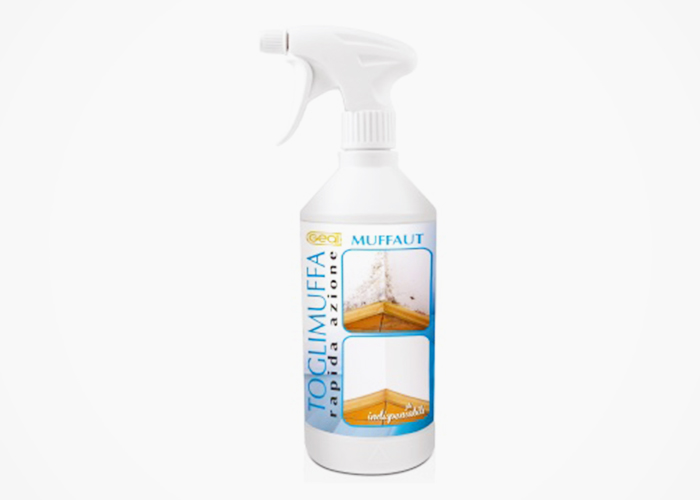 Why choose ICR17:
Stops penetration of water into micro-cracks.
Keeps long lasting action.
Creates an anti-efflorescence anti-mould barrier.
Does not film, does not change the look of material.
Muffaut - Anti-mould Cleaner Indicative Consumption
Water-based mix of oxidative ingredients, synergized with wetting agents and emulsifiers, stabilized for the specific use and long lasting action.
Eliminates moulds, algae and organic redidues, which can cause sliding, from all kinds of surfaces. Delays new formation. Can be diluted with water to get a weaker oxidative action.
How to use: Shake well before use. Apply uniformly the product (pure or diluted 30-50%) with a synthetic paintbrush or a manual sprayer. Do not use high-pressure sprayers nor atomizers. Remove excess and dripping with a damp cloth. Let it act for a few minutes, up to 1-2 hours, depending on need. Remove residue with a solution at 1% of LINDO SANIGEN (GEAL), i.e. 1-2 caps in 1 litre of water. Execute preliminary test to check working concentration. After cleaning it is advised to apply a suitable water repellent as this will furtherly reduce the growth of moss and mildew. Consumption will depend on absorption and consistency of soil to remove.
Why choose Muffaut:
Totally removes mildew from any surface.
Delays its growth.
Ideal for plaster before whitewashing.
For more information regarding Stone Cleaning & Maintenance Products - Geal from RMS Marble, visit www.rmsmarble.com.