Half glass partitions from The Partition Company at the new
Spec-Net office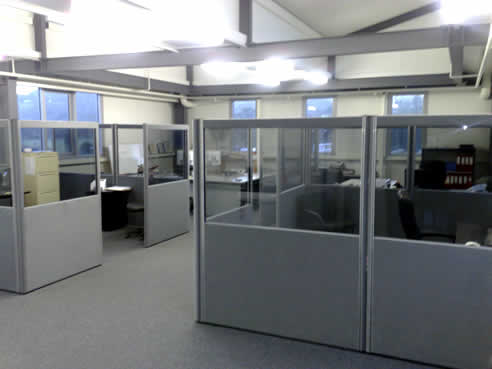 The Partition Company is a Sydney based fit out organisation. Established since 1982, our success lies in providing practical, flexible designs and implementing them cost effectively. We are committed to establishing a high level of communication with all clients, large and small, to guarantee the smooth progress of each project.
All screens have two levelling feet and feature aluminium joiners and PVC end caps.
Black slotted strip is used for panel hung furniture.
The PVC end cap can be either black or covered with fabric.
Glass and half glass screens have tinted glass as standard. Polycarbonate is used for curved screens.
Free standing feet and wallstarters add extra strength and stability. Ducting is available for power, data and telephone services. The ducting, made exclusively for TPC is composed of fire retardant materials, with outlets being accessible from both sides of the panel.
The TPC linking system allows complete flexibility in design. Panels are able to be rotated approximately 270 degrees at the link.