Pool Fencing Melbourne from Abra Metals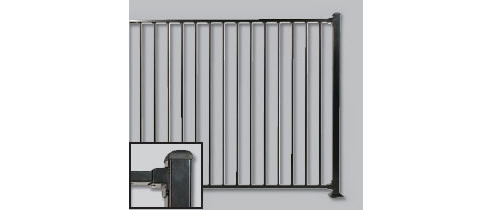 Why an ABRA SAFE Pool Fence?
A swimming pool is an expensive item so why compromise on pool fencing when it comes to safety?
An ABRA SAFE Pool Fence has been extensively tested and offers the highest standards in pool fence safety including quality materials, guaranteed powder coating all at a competitive price. Every step of the manufacturing process is given our highest priority resulting in a pool fence that pool owners can truly trust.
Panels are constructed from 6063 T6 alloy, 19.5mm balusters at 1000mm centres and are 1200mm high. The combination of the double welds and material used ensures all safety aspects of the panels' performance is nothing short of first class.
ABRA SAFE testing ABRA SAFE fences are tested and compliant to Australia Standard AS1926.1 1993 by ETRS (Test Report No QRN05-0237 and Test Report No QRN05-0943.)
Backed by Dulux ABRA SAFE fences use nothing but the best - Dulux Duralloy - a highly durable coating with very high scratch resistance, making it ideal for all kinds of applications including gates, fences and balustrade sections. ABRA SAFE aluminium products come with a Duralloy coating which attracts a 7 Year warranty.