Rigid Insulation PIR Foam Board from Polyisoboard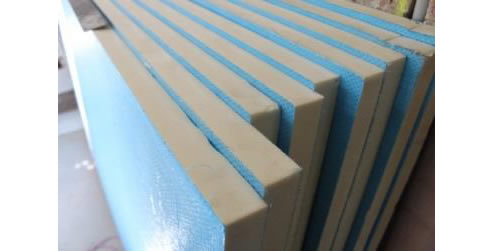 POLYISOBOARD™ (PIR) Insulation
POLYISOBOARD is a closed-cell, rigid PIR foam insulation board that has a Polyisocyanurate foam core and can be sandwiched between a fibre cloth scrim finish on one side and either bright shiny aluminum foil or a white or black acrylic coated aluminum foil on one side.
Technical Data:
Board Dims: 2400mm x 1200 mm (2.88m2)
Compressive Strength: 291 (kPa)
Density: 40 kg/m2
Water Vapour Permeance: <0.3 %
Water Absorption: 0.05 %
Thermal K Value: 0.0212 (W/mK)
Operating Temperature: -46 to +88°C
Fire Rating: Group 1 building product. Complies with AS/NZ 3837: 1998 BCA 2013 section J
POLYISOBOARD insulation is created using a free-rise manufacturing process, which produces a closed cell foam that is specially formulated for improved thermal rating and fire performance. The combination of the closed-cell foam core and sturdy facers produces boards that deliver high R-value plus excellent dimensional stability and moisture resistance.
Features and Benefits:
A moisture-resistant foam core.
White laminate finish resist damages, pressure-washable, provide attractive finish, improves light reflectance in undercover car parks providing safer zones.
The most thermally efficient insulation available in the marketplace - highest R-value per cm of thickness.
Compatibility with most solvents used in construction adhesives.
Excellent dimensional stability. Compressive strength refers to the ability of a rigid foam board to resist deformation and maintain its shape when subjected to a force or load. Common construction compressive strength applications require Polyisoboard to maintain its shape during installation as well as during use. Polyisoboard insulation boards are available in a range of compressive strengths.
Superior performance in fire tests - Polyisoboard meets Group 1 building materials and passes Classification: Group 1 fire tests without a thermal barrier.
Environmentally Responsible. A CFC - and HCFC-free product with zero ozone depletion potential. (Zero ODP) .
Custom Length up to 7.0M width from 1200mm to 1350mm wide and profiles available on request.
Australian made and owned. Availability throughout Australia.
For Further Technical, Sales, Installation Service or Advice please contact us.