Mechanical Construction Anchors - INSOFAST from WDS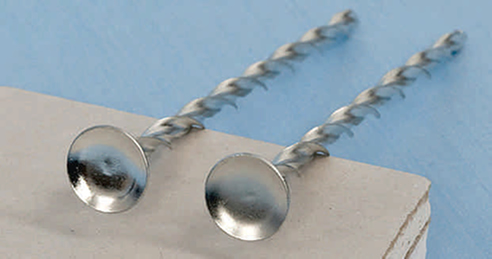 Mechanical Anchors for a wide range of construction materials.
A one piece metal fastener with a dish-profiled head for mechanically securing laminated and insulated plasterboard panels to walls. Ensures stability and prevents plasterboard from falling on persons escaping a blazing building, or on persons entering a blazing building for rescuer purposes.
The fire-proof metal fastener had a self-tapping helical shank with work hardened blades able to cut into a wide range of masonry and timber substrates when driven with an adapter powered by a standard SDS hammer drill.
Benefits
ISF18A fixing are suitable for use with all types of insulated drywall boards. They can be used in conjunction with dot and dab adhesive or in place of it, to ensure stability of the boards in the event of a fire.
Cold bridging is minimised thanks to a thermally efficient spiral shaft that has a cross sectional area just 25% of that of a solid shaft of equal diameter. Also by virtue of a fully countersunk head, which indents into the gyproc layer without tearing.
The anchor drives directly into aerated concrete such as Hebel and into softwood timber. Use 5mm pilot hole din brick, concrete block and hardwood.
Fire-proof mechanical fixing.
Quick and easy to use.
Dependable performance.
Countersinks without tearing.
Dished head retains filler.
High versatile in wide range of construction materials.
Fixes plasterboard to light-weight block without pre-drill.
Fixes to concrete block and brick with tiny pilot hole.
For more information, visit WDS Construction & Engineering Products.