Ethylene Removal Sachet for Fresh Produce from Airepure Australia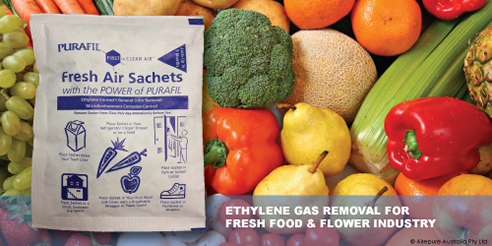 Ethylene is a naturally occurring gas that is also produced by plant respiration, ripening fruit, and cut flowers. It causes fruits and vegetables to ripen and flower buds to open and has long been recognised in the industries that store and transport fresh produce and products as a significant factor in reducing produce quality and shelf life.
Fresh Air Sachets by world leading manufacturer of gas-phase air filtration systems, Purafil Inc. are superior ethylene adsorbers which utilise Purafil's patented dry-scrubbing media in a durable, water-resistant, gas-permeable packet.
The use of Purafil SP media is non-toxic, non-hazardous, will not support bacterial or fungal growth, and provides maximum ethylene removal capacity that can extend the shelf life of produce from days to weeks.
Purafil Fresh Air Sachets can be used within controlled atmosphere (CA) storage of horticultural products, ripening rooms for "green" fruits and vegetables to increase time between harvesting and distribution, and preserving freshness of produce during shipping and storage.
Further resources regarding Ethylene removal solutions are available on http://www.airepure.com.au/products/76-ethylene-removal-solutions
Airepure Australia is a leading national air filtration company providing unique, powerful and integrated air filtration solutions, ranging from basic HVAC filtration through to high end HEPA/ULPA filtration and airborne containment technologies. We have a long standing partnership with Purafil Inc, and have office or agent, warehouse and technical support facilities in all major cities, including Melbourne, Canberra, Sydney, Brisbane, Townsville, Adelaide, Perth, and Hobart.
Call 1300 886 353 to contact your local Airepure office today.