Natural Timber Acoustic Slats from Screenwood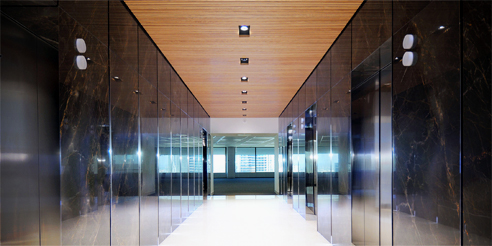 Natural timber brings a timeless quality to any space and technical acoustic requirements can also be addressed. Screenwood Ceiling and Wall Panels are manufactured from solid timber slats in a variety of profiles. The system incorporates a unique acoustic textile backing which enhances sound absorption, making it ideal for both decorative and acoustic installations. Screenwood Acoustic Systems are designed to be modular and pre-finished allowing for ease of installation.
Panels are fire rated, VOC tested and NRC rated to offer a complete solution. Screenwood also carries PEFC certification.
Acoustic Options
All acoustic options are delivered to site with the Screenwood Panel as part of a finished solution.
Standard SC15
All Screenwood Panels for internal applications are fitted with SC15 acoustic scrim as standard. This acoustic fabric achieves an NRC of up to 0.7* and has been specifically designed to complement the full range of Screenwood Panels. It is available in black only.