Cementitious Grout - Thor WHO60 from WDS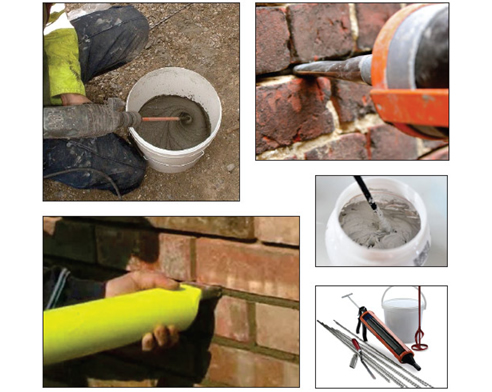 A shrink compensated, two-part, thixotropic cementitious grout, suitable for injection with a hand applicator, for use with Thor Remedial Reinforcement and Thor Remedial Wall Ties. Supplied in a sealed tamperproof mixing bucket, the components are mixed on-site with a drill powered mixing paddle, to a smooth creamy consistency. Manufactured in Australia for Australian conditions, (under arrangement), the high strength bonding agent is an integral proprietary component in the Thor Remedial Masonry Reinforcement System.
The combination of Thor Helical reinforcement wire with the Thor WHO60 Grout provides a stabilisation system sympathetic to active structures such as masonry.
The micro-cracking properties of the Thor WHO60 grout allows a degree of flexibility compensating for natural expansion and contraction. Higher strength grouts and polyester/epoxy adhesives may restrict natural masonry movement and induce further cracking within adjacent areas.