Free Building Information Modelling Data Sets from Aquatherm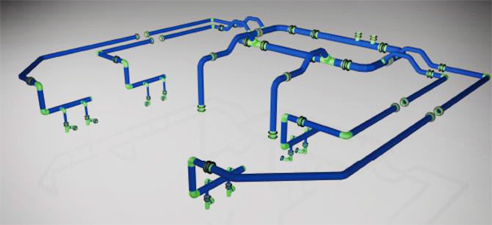 What is BIM?
"Building Information Modeling" is a method to plan, execute and manage building projects based on a virtual building information model. It offers a central administration of all information relevant to the project.
Aquatherm provides free BIM data sets to architects and specialist planners which can be downloaded under www.Aquatherm.de/BIM.
The data are available as Revit families for the product lines Aquatherm Green Pipe, Aquatherm Blue Pipe and Aquatherm Lilac Pipe. The data sets for the Aquatherm Red Pipe, Aquatherm TI and Aquatherm Black system product families will follow by the end of 2017. In addition, the two CAD data formats .dwg and .stp are offered for 3D modeling.
Beside graphical 3D models, the Aquatherm Revit families contain all necessary information to make BIM-capable designs: from article numbers, flow rates and analyses, volumes, dry weight and water weight to information for the static calculation of the building.
For more information, please visit www.aquatherm.com.au.