Fire-Retardant Composite Wall Underlay from Hazelwood & Hill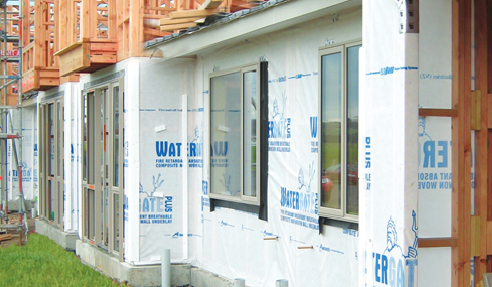 Thermakraft - Watergate Plus 295 - Fire Retardant Absorbent Breathable Composite Wall Underlay Available from Hazelwood & Hill
Hazelwood & Hill are pleased to be able to offer the Thermakraft specialised range of Watergate Plus 295.
Watergate Plus 295 is a fire retardant, absorbent and breathable wall underlay. It is a white composite non-woven polypropylene, specifically designed as a wall, underlay behind exterior wall claddings.
Watergate Plus 295 also offers a high degree of water resistance, with a high level of water vapour permeability.
Key Advantages
Can be used as a wall underlay on timber and steel framed buildings with absorbent and non-absorbent wall claddings direct fixed to framing.
Can be used as a wall underlay in a drained cavity.
Can be used as an air barrier where walls are not lined (attic spaces, gable ends).
Suitable up to and including very high building wind zones of NZS 3604S.
Unaffected by LOSP timber.
For more information, visit www.hazelwoodhill.com.au.