Perforated Façade panels from Craft Metals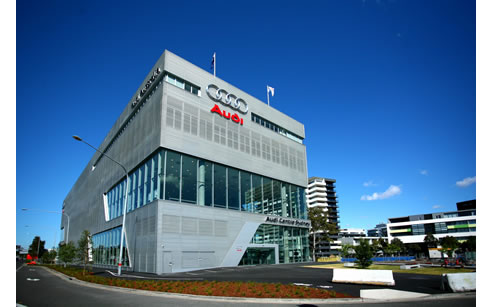 Perforated Façade panels, customized to your design as proven on the new Audi Lighthouse.
Craft Metals manufactured and delivered over 5000 feature panels for Audi Lighthouse, the Audi Centre Sydney in South Dowling Street, Zetland. The panels were produced as per strict specifications from the awarding party and punched, then bent to a meander shape and finally anodised to a bright silver appearance.
Craft Metals works in partnership with engineers and façade installation companies to deliver custom made and high quality panels in Aluminium, Copper and Zinc.
Perforations offer many new possibilities for individual designs and support new structures made from high quality pre-painted or anodised Aluminium, TECU® Copper and Rheinzink® titanium zinc.
Our processing facilities allow for endless possibilities with regular or irregular patterns, scattered look or straight rows with different hole sizes
3D patterns, shapes or profiles provide functional and aesthetic qualities.
New innovative processing methods by Craft Metals in architectural applications and architectural branding lead to a livelier and more characteristic building envelope and opens new perspectives for creativity and new ideas.
Call our free technical advice service to discuss your project today.