Nawkaw mansonry colour restoration system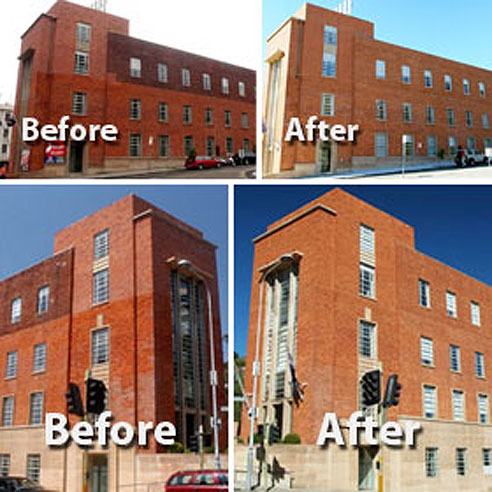 It's designed to achieve consistent colour in restoration and renovation projects where existing brickwork needs to be colour matched or repaired. It is a penetrating stain that is applied to the brickwork and can duplicate any range of colour and hues. It does not involve painting and with a 25 year life, maintenance costs are minimal.
In Edgecliff NSW, Nawkaw Australia has breathed new life and colour into the old Post Office which was erected in 1884 from bricks and sandstone.
Over the last century it has undergone several major renovations, with two brick floors being added to the original building. Unfortunately the renovations were not sympathetic to the buildings original and beautiful facade. The bricks did not match and the historical building was an eyesore of unmatched brickwork of varying shades. Recently the old Post Office was converted to commercial office space and accommodation and thanks to Nawkaw has been restored to its former glory.
Nawkaw performed the delicate job by carefully cleaning the existing brickwork and employing their unique colour staining technology to re-colour the bricks. With the colour stain penetrating the surface of the bricks, Nawkaw gave the historical building a much needed facelift and created a smooth and consistent finish.
Nawkaw's reputation for restoring historical buildings is second to none and they are recognised as innovators in this market.
Their colour staining technology has revived Paddington terraces, shops at Broadway and the facades of numerous apartment conversions. As with the old Edgecliff Post Office each restoration has transformed tired old structures into buildings with style and street appeal.