PP-R Faser (MF) Pipe Systems from Aquatherm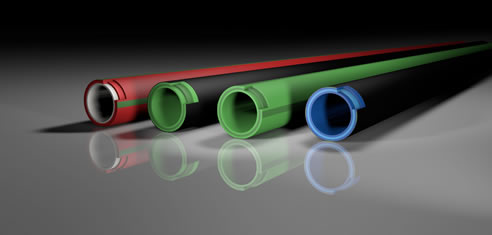 Aquatherm Faser composite pipe technology
The composite pipes made in the multi-layer extrusion process produce a higher stability due to the fibre filling in the middle layer. Compared to customary PP-R pipes there are further advantages.
- Reduced expansion (α = 0.035 mm/mK)
- Higher flow rate due to increased inner diameter
- Larger support intervals
- Less weight

The following types of pipe are produced according to this technology.
aquatherm green pipe MF (faser composite pipe)
aquatherm blue pipe MF (faser composite pipe)
aquatherm red pipe MF (faser composite pipe)