Why you Need the Semi-Cassette Folding Arm Awning for your Home?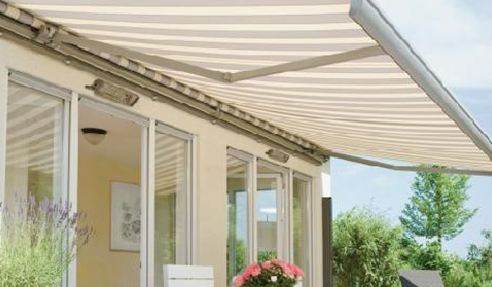 Blinds by Peter Meyer capture a youthful and fresh outdoor design through the highly developed Semina Semi-Cassette Folding Arm Awning, built to provide both style and stability without compromising its functions and benefits.
Semina Semi-Cassette is an intelligent outdoor solution manufactured by Weinor, the leading manufacturer of exterior awnings, patio roofs, and conservatories across Europe. This folding arm awning has been systematically engineered from the highest grade of materials and the latest technology, promoting ideal outdoor warmth and comfort while providing optimum protection against too much heat and harmful UV rays.
Semina's compact semi-cassette size of 190 x 204mm (W x H) can be projected at maximum 3.5 m with at most 7m width. Great on functionality and price, Semina awning is also user-friendly and can be easily assembled.
This folding arm awning consists of the following features and benefits:
Integrated rain gutter - efficiently drains rainwater plus protects fabric and fittings.
Drop forged knuckles and shoulder parts where it's most needed. This technology is used in aircrafts for consistent and reliable performance.
Weinor Long Life arm - excels for its extremely high tension force even in gusty conditions.
Wind-lock safety device - made with ultra-modern technology that resists strong winds, preventing the awning from flapping or lifting when wind gusts from below.
LED design light bar - this optional feature only requires minimal energy consumption.
Weinor incorporates their fabric range of My Collections for the Semina Semi-Cassette awning, with a huge range of 143 pattern choices in 3 different colour collections as well as 56 standard powdercoat colours at no surcharge. These Weinor collections are made with Teflon fabric coating and world-class nanotechnology, allowing its fabric colour and visual appearance to last even when faced with weather extremities, oil, dirt, and harmful chemicals.
For maximum convenience, Semi-Cassette Folding Arm Awnings are controlled with Somfy Motorisation. Sensors and timings are made possible through this finest cutting-edge technology, allowing an easy control of heat and light to save energy consumption. Its smooth, controlled, and sophisticated operation essentially impresses guests and also ensures longer life value.
For more information about the Semi-Cassette Folding Arm Awnings, contact Blinds by Peter Meyer or visit www.petermeyerblinds.com.au today.