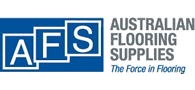 Company Profile
Australian flooring supplies is distributor of nationally branded products servicing the flooring industry. AFS specialises in a range of flooring products ranging from underlays, PVC finishing trims, tapes, nails, staples, blades, floor coatings, adhesives, floor trims, smoothedge and ramps.

Australian flooring supplies recognises the importance of providing know industry brands to our customers, such as Roberts, Ardex, OXTEK, TRIMTEC, Capitol, Polymer, Diplomat and many more leading industry brands.

Roberts Consolidated Industries has been a driving force in the continued modernisations of carpet installation techniques. Through constant innovation, Roberts has invented and improved many common carpet tools that are in use today. With products used throughout the world, Roberts has been recognised as the premier brand of carpet installation tools, adhesives and accessories for more than 75 years. The Roberts name continues to be the choice of the installation professionals in Australia who demand quality, quality and reliability.

Australian flooring supplies continues to introduce innovative products to meet the demand of today's customer.

Australian Flooring Supplies
1300 737 155
Call for address
* If you would like to update the text on your profile page, please contact Spec-Net.