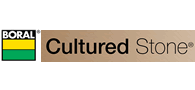 Company Profile
The dramatic visual effect of natural stone for architecturally inspired interior feature walls and trims is an achievable and affordable look using Cultured Stone ® by Boral®.

A cleverly engineered stone-like cladding, Cultured Stone is well suited to composite architectural designs, complementing materials such as brick, timber and glass. Ideal for homeowners seeking an interior style with a twist, Cultured Stone can be integrated as a finish during building or renovation to make a statement on walls, around fireplaces, in kitchens and any other room deserving special attention.

Offering many design options, Cultured Stone is available in nine distinct ranges (Coral Stone, Country Ledgestone, Dressed Fieldstone and Pro-Fit Ledgestone) and a wide variety of shapes, colours and textures. Each unit of Cultured Stone is cast in natural stone moulds before it is meticulously hand coloured to achieve the look and feel of stone.

Cultured Stone has low routine maintenance and, in most applications, does not require painting, coating or sealing after installation. Boral Cultured Stone is supplied with a 50-year warranty.


PGH Bricks & Pavers™ are the distributors of Cultured Stone® by Boral® in Australia for the territories of QLD, NSW, VIC and SA.
Cultured Stone® by Boral®
13 15 79
Call for address
* If you would like to update the text on your profile page, please contact Spec-Net.